I think my child may be taking drugs. What Do I Do?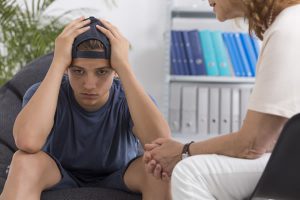 I think my child might be on drugs. Could drug testing help?
The West Virginia Drug Testing Laboratory is here to serve as an ally and resource for parents. With widespread drug addiction plaguing our families and communities and drugs becoming more readily available and potent than ever before, we understand the concerns parents are facing in today's society.
Teen drug use crosses all boundaries of social constructs, affecting the rich, the poor, the educated and the religious. Consider these recent statistics on substance abuse among adolescents.
Drug and Alcohol Use Among Adolescents:
More teen deaths are attributed to prescription drugs than both heroin and cocaine combined
By the 8th grade, 28% of teens have consumed alcohol, 15% have smoked cigarettes and 16.5% have used marijuana
35.1% of seniors have smoked pot in the past year
6% of seniors admit to using marijuana every day
Seniors who use marijuana are 65% more likely to crash their car
Approximately 13% of people who start using marijuana as a teenager become dependent on it
Almost 3,300 teens try weed for the first time every day
60% of seniors don't see regular marijuana use as harmful, but THC (the addictive ingredient in pot) is nearly 5 times stronger than it was 20 years ago
About 50% of 12th graders think it's okay to try cocaine once or twice and 40% believe it's not harmful to use heroin once or twice
In the U.S., alcohol is abused by teens more than any illicit drug
Adolescents age 12 to 20 drink 11% of all alcohol consumed in the U.S.
Underage alcohol abuse is responsible for almost 200,000 ER visits each year
Alcohol abuse by teens is the cause of nearly 4,300 deaths each year of adolescents under age 21
Obviously, the drug epidemic still plagues families and communities everywhere. And with the rise in prescription drug use as well as the increased accessibility of marijuana, the dangers continue to grow.
Our goal is to help ensure the safety and wellbeing of your child, while providing you with the peace of mind needed to successfully navigate parenthood. Our personalized drug screening services can open the lines of communication for you to discuss these difficult topics with your child. Early detection can help ward off the possibility of long term addiction and unnecessary trouble at school, home or with correctional personnel.
While no parent wants to believe drug addiction can or would happen to their child, it's an unfortunate reality for some.
But you don't have to face it alone.
Let us provide you with not only accurate results but also comprehensive and compassionate guidance for your next steps of action.
Our drug screens are 100% confidential, meaning no results, whether positive or negative, would be shared with any entity outside of the parent or guardian approving the drug screen.
You know your child best, so don't avoid the potential signs of drug or alcohol abuse. Talk to your child if you're noticing any of the following physical and behavioral signs:

Common Physical Signs of Drug Use:
Bloodshot eyes
Pupils are smaller or larger than normal
Frequent nosebleeds (could be related to snorted drugs such as meth or cocaine)
Changes in appetite or sleep patterns
Sudden weight loss or weight gain
Seizures without a history of epilepsy
Deterioration in personal grooming or physical appearance
Impaired or unstable coordination
Injuries, accidents and/or bruising they won't or can't tell you about
Unusual smells on breath, body or clothing
Shakes, tremors, incoherent or slurred speech
Common Behavioral Signs of Alcohol or Drug Abuse:
Skipping class, declining grades, or trouble at school
Loss of interest in extracurricular activities, hobbies, sports or exercise (decreased motivation)
Drop in attendance and performance at work
Complaints from coworkers, supervisors, teachers or classmates
Missing money, valuables or prescription drugs in your home
Acting isolated, silent or withdrawn
Engaging in secretive or suspicious behaviors
Clashing with family values and beliefs
Preoccupation with alcohol and drug-related lifestyle in music, clothing and posters
Demanding more privacy, locking doors and avoiding eye contact
Sudden change in relationships, friends, favorite handouts or hobbies
Frequently getting into trouble (arguments, fights, accidents or illegal activities)
Using incense, perfume or air fresheners to mask the smell of smoke or drugs
Using eyedrops to mask bloodshot eyes and dilated pupils
Psychological Warning Signs of Alcohol or Drug Abuse:
Unexplained, confusing changes in personality and/or attitude
Sudden mood changes (irritability, angry outbursts or laughing at nothing)
Periods of unusual hyperactivity or agitation
Lack of motivation (inability to focus, appears lethargic or "spaced out")
Appears fearful, withdrawn, anxious or paranoid with no apparent reason
If you suspect your child is abusing drugs or alcohol, understanding the substances your child may be abusing can guide your approach to getting help. We offer affordable and effective screening kits that can be collected in a variety of ways to accommodate your preference.

At Home Drug Tests
Our home drug test kits can be collected in one of the following ways:
Mailed Collection – We send the supplies to you with collection instructions and a prepaid mailer
In-Office Collection – Clients can come to our facility (West Virginia Drug Lab in Parkersburg, WV) for collections
PURCHASE YOUR DRUG SCREENING KIT

What to Do if Your Child Tests Positive
Stay calm – You are undoubtedly feeling upset, angry and betrayed, but now is not the time to let those feelings out on your teen. Before any confrontation takes place, take time to breathe and compose yourself. Whether that is 1 hour or 3 days, make sure that you are able to calmly handle the topic before any other steps are taken.
Talk to your teen – While you shouldn't blow up at your teen, you still need to confront the issue. Approach with a spirit of concern, not blame, striving to understand what's going on and what you can do to help. Keep in mind that this can provide an excellent opportunity for connecting with your teen concerning other difficulties going on in their life at school, home, work or within relationships.
Discuss the test results – Make sure that you discuss the positive test results with your teen. Be aware, though, that regardless of positive results, your teen will most likely attempt to deny the drug use. Take note that there is no chance of second hand drug exposure (i.e. being in the room where marijuana was smoked will not result in a positive drug test), so this is not a plausible excuse.
Discuss the reasons to stop use from their perspective, not yours – Don't use scare tactics or guilt to stop your teen's behavior. Consider the things in your child's life that are important to him or her, and then seek to help him or her understand how drugs will negatively affect those things such as school, sports, relationships, physical appearance, driving, etc.
Look for solutions together – Use this opportunity to show your teen that you are on their side. Pull them into seeking a solution to the temptation, addiction and root issues that may have led to the substance abuse in the first place.
Seek help – Many parents feel immense amount of shame and guilt when they realize their child is struggling with drug addiction. Isolation is a common reaction to the news, but one that can be the most detrimental. Don't isolate yourself. Seek help through a variety of avenues, including your child's pediatrician, a counselor, a support group for parents with drug addicted children, any religious affiliation you may be a part of, and friends and family that you know care deeply about your family's well-being. A diverse support group may be the best thing you can do for the outcome of the entire situation.
Repeat the message – As your teen is open, continually discuss the consequences of drug and alcohol abuse. Having this difficult conversation often will encourage open lines of communication between you and your teen. But remember to put your blame and accusations to the side. Seek to understand and help.
Test repeatedly – If your teen will agree to occasional testing, make sure you facilitate this option. This helps ensure honesty and transparency.
Obtain medical attention – Many addiction cases can be dangerous if the recovery process is not administered through stringent medical attention and strategies. Talk to your child's pediatrician to determine what medical attention is necessary. Please note: If your child is experiencing any signs of withdrawal, go to your local Emergency Room immediately.